Commercial Custom Wine Racks in Los Angeles, California
Wine racks are the ideal resting place for any wine bottle stored in a commercial space. Wine racks have to be sturdy and durable so that bottles are kept safe, and can therefore age properly. You don't want to ruin the reputation of your business by selling wine that has been damaged through improper racking.
What Sets Apart Commercial Wine Racks?
Commercial wine racks and residential wine racks can be the same in style and type as those found in homes. But the main difference that you'll see in a commercial wine rack is the material that is used in construction. When wine racks in businesses are more prone to damage, because of the constant removal of and replacement of wines bottles. You are going to need a higher grade of wine rack if you're building a professional wine cellar. Consult with a wine storage specialist to determine whether your rack choice will fit your business's needs. Planning can save you a lot of money in the long run, and be an integral part of your wine sales strategy.
How To Choose Commercial Wine Racks
There are several kinds of wine racks that you can use for commercial purposes here in California. They can be made from a variety of materials, and can also vary in size, design and price. When purchasing commercial wine racks, here are things that you need to look out for:
1. The Size of The Wine Racks
To determine the size of the wine racks that you need, you must first decide the amount of wine bottles you intend to store. The number of wine bottles depends on what type of business you have. Wine stores need larger wine racks than restaurants. If you have only a few wine bottles, there are small commercial wine racks on the market that are designed for display purposes. Once you've established the estimated amount of wine bottles you intend to display, you can better choose the type and size of commercial wine racks you need.
2. The Functionality of the Wine Racks
Business owners have different ways of using their wine racks. Depending on your needs, there are wine racks that are constructed to be easily transported around restaurants or in showcases. Wine racks such as these come with wheels and are made with a stronger and more durable frame. There are also wine racks that are layered or tiered available to purchase. They provide a wine tasting area on top of their structure, making them useful tools for sharing wine with customers.
Checking for the Quality of Wine Racks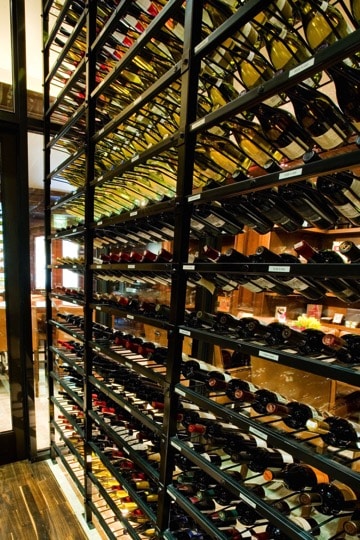 Commercial wine racks are more prone to damage compared to residential wine racks, because of the constant taking out and replacing of wine bottles in stock. To make sure that your system will last, you need to choose racks that are made from durable and quality materials. Here are considerations when determining the quality of custom wine rack you should choose:
Commercial wine racks in Los Angeles can be made from most types of wood, but wood species that do not have any naturally occurring smell are always the better option. Wood that has an odor is generally decay resistant, and are more suitable for longer time-frame applications. A few of the wood species that should be avoided for commercial wooden wine racks include Birch, Cedar, and Poplar–they just won't be adequate in quality.
2. Check the Thickness of the Wood
The stability of a wine rack can be determined by the thickness of the wood used. Commercial wine racks should be made of wood that is at least 11/16th of an inch thick. Don't go cheap when choosing your wine rack or you will regret your decision. Nothing wastes money faster than a wine rack crashing to the floor.
3. Was the Sanding Done Properly?
Wine bottle labels should be protected from damage. It is important that the bottle supports are angled and triple-sanded, so that your labels are not at risk of tearing. Your wine label is the key to understanding and communicating a vintage's quality to a customer. Damaged wine labels are a sure-fire way of ruining a perfectly sell-able bottle of high quality product.
Different custom wine racks have different features. Choose wine racks that have a true-radius curve. This feature will make your commercial display rack look more modern and elegant.
The more stable a wine rack is, the better it is for commercial uses. For additional stability, make sure that your wine racks have a toe-kick that is approximately one and a half inches. A toe kick adds extra protection for wine bottles that are stored underneath.
6. Visibility of Hardware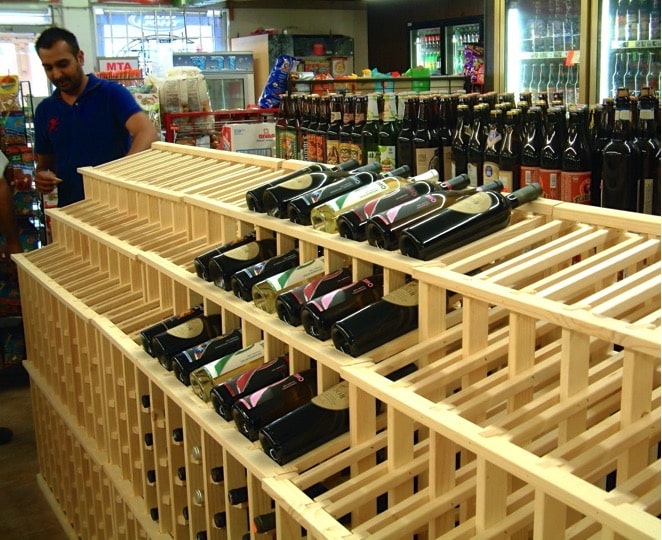 You want to make sure that hardware, such as screws and screw covers, are hidden from plain sight. It is important that, when your guests come into your restaurant or store and see your product selection, that their attention is on your wines and not distracted by wine rack design flaws.
7. Check the Bottle Cubicle Sizes
You want to make sure that the bottle cubicle sizes will be able to accommodate the wine bottles that you plan to display. It is always better to have cubicles that are larger (around 3 and ¾ inches per hole in the rack), so that larger bottles and unusually shaped bottles can fit in them, giving you plenty of storage options.
Notched dado space bars are an ideal option for many commercial properties. They provide a more sturdy custom wine rack. Dado space bars also help make the installation process easier. Make sure that dado space bars are included on the bottom, top, back, and front of the rack.
Commercial Wine Racks Should Showcase Your Wine Collection
It is imperative that the wine racks you choose for your wine store should be effective in showcasing your wine collection to your customers. Customers will not buy anything that they cannot see. Your commercial wine racks should display your wine bottles and their labels properly to get the attention of potential customers. The more visible the wine bottle labels are, the more bottles you are likely to sell.
Wine racks should not only be beautiful–they should also be functional so that they serve the purpose that they are made for. Consulting with a design expert will help ensure that your stunning wine racks also do the job they are intended for.
To make sure that you get only quality custom commercial wine racks in Los Angeles, California, only trust a reliable wine cellar designer and builder. Coastal Custom Wine Cellars is one of the leading companies in providing wine storage solutions to Los Angeles, California companies. They provide every option available for commercial custom wine cellars and wine racks. They provide a 3D design to their interested customers. Coastal assists their clients from the designing of their dream wine racks to the final installation.
For more information about their products and services, contact Coastal today.