One of a Kind Cellar Design – Los Angeles Residential Wine Room with a Cigar Humidor
It is every wine collector's dream to own a residential wine cellar. Many collectors keep their vinos in a commercial storage facility. It would be more convenient for wine lovers to have their collection stored in the comfort of their own home. However, the common concern among homeowners is the lack of space for the construction of a refrigerated wine cellar. We would always encourage them by telling them that any unused space – whether a small closet, an extra area underneath the stairs, a tiny pantry, or a spacious garage – can be converted into a fully functional wine storage structure. A basement play area, for example, in Los Angeles was recently transformed by our team of contractors into a contemporary glass wine cellar with a cigar humidor.  
A Basement Play Area in Los Angeles Renovated into a Contemporary Design Wine Cellar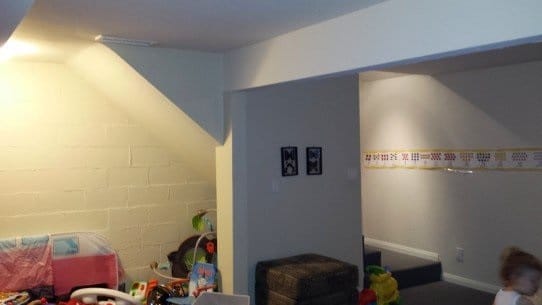 This recent residential wine room project we completed in Los Angeles is one of the most successful construction works we have done. The client who hired us was a wine enthusiast who also enjoyed collecting cigars.  
We met the client on August 6, 2017. We began the construction a month later. The small space that we converted into a wine cellar was a basement that served as a play area for the client's kids. Since his children are all grown up, he hired our team to renovate the space and turn into a wine cellar with a humidor cabinet.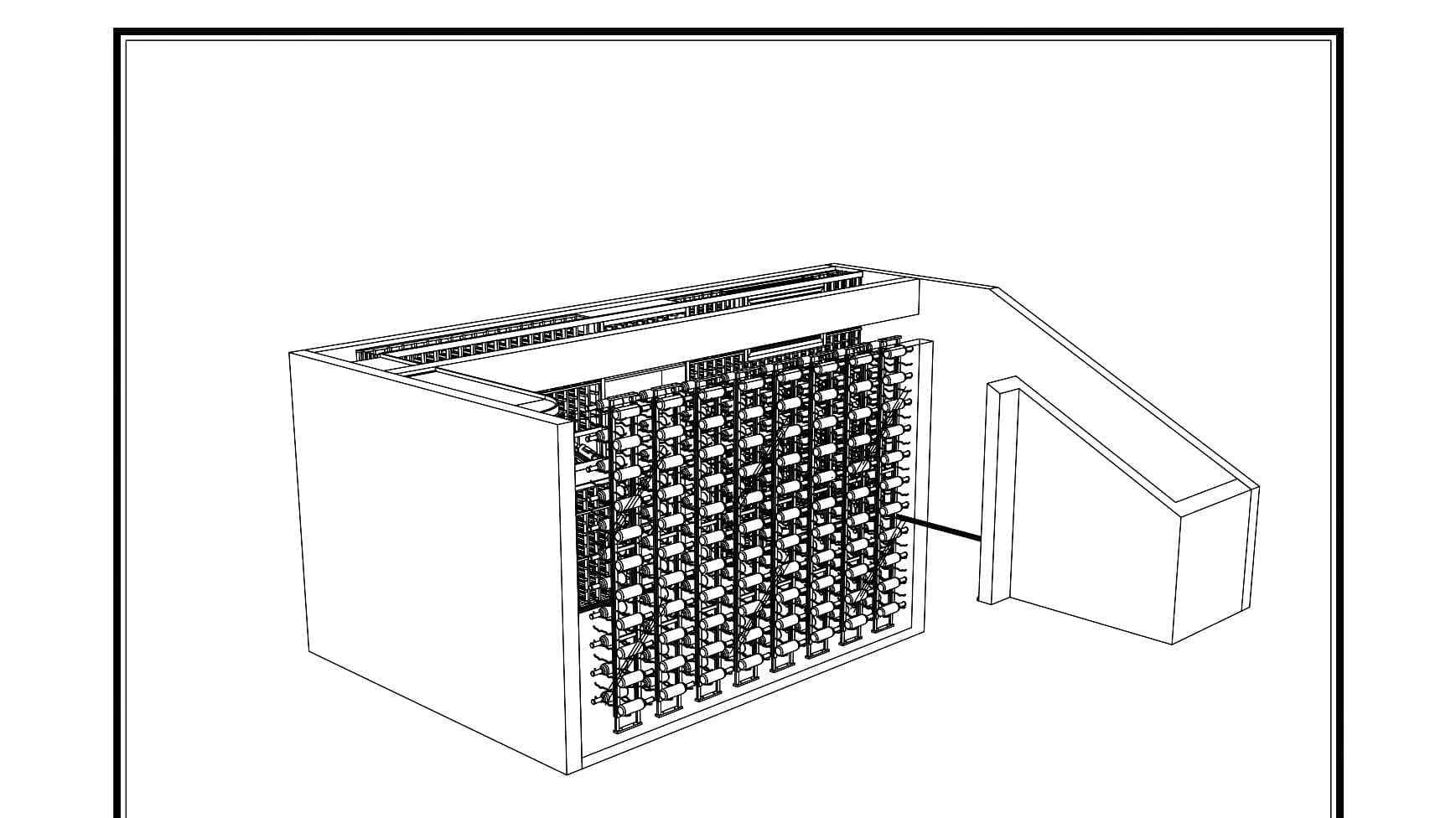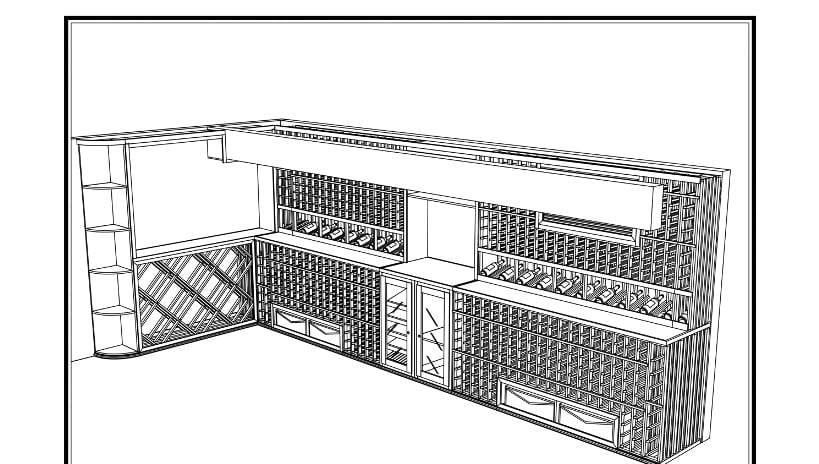 When we met with the client, we discussed his aesthetic needs and storage requirements. We assessed the basement playroom and gathered its measurements. We then created 3-dimensional drawings of the planned cellar and presented the proposed design to the client. The proposed custom wine cellar design had a 2,000-bottle capacity with a tasting area for guests and a humidor cabinet for the client's cigar collection. 
This under-stairs wine room for our client's Los Angeles home also utilized a small space into a beautiful wine storage space.
Contemporary Design for the Basement Wine Cellar – Installation of Wooden and Metal Racks

 
Wine racks come in different styles. They can also be made from various materials. The most common wine racks are those made from wood and metal. Wooden wine racks are for those who want to achieve a rustic or traditional style cellar. Those who want a more modern look, use metal racking systems.  
The client in this Los Angeles basement cellar project wanted a distinctive contemporary design. To achieve the unique look that the client wanted, our team of wine cellar specialists in Los Angeles used both wooden and metal wine racks.  
1. Unique Style Using Wooden Wine Racking Systems

 
The wooden racks installed in this basement cellar were made from Alder, which is a durable type of wood species commonly used in building climate controlled storage rooms. Alder is known for being highly resistant to mold and mildew. Our team applied a Sherwin Williams Rustic stain to the wooden racks. A clear satin finish was also applied over the stain to achieve a gorgeous sheen.  
2. Contemporary Design Achieved Using Metal Wine Racks

 
Our team also installed contemporary wine racks in this basement cellar to achieve the contemporary style that the client wanted. All the metal racks were from Vintage View Storage Solutions, which is known for manufacturing high-grade, label-forward metal racking systems in California. We installed brushed nickel wine displays in strategic areas in the wine cellar. The client loved how the metal racks beautifully complemented the glass walls and the wooden displays.  
Installation of a Cigar Humidor Cabinet in this Contemporary Design Los Angeles Wine Cellar

 
One of the strikingly unique features of this basement-turned-wine cellar was the cigar humidor cabinet, which was installed beneath the cellar's tabletop. The tabletop was built with two double-deep cabinets – one on the left and the other on the right. The right cabinet was used for storage of wine tasting essentials such as: napkins, decanters, and cork screws. The left cabinet was made into a cigar humidor.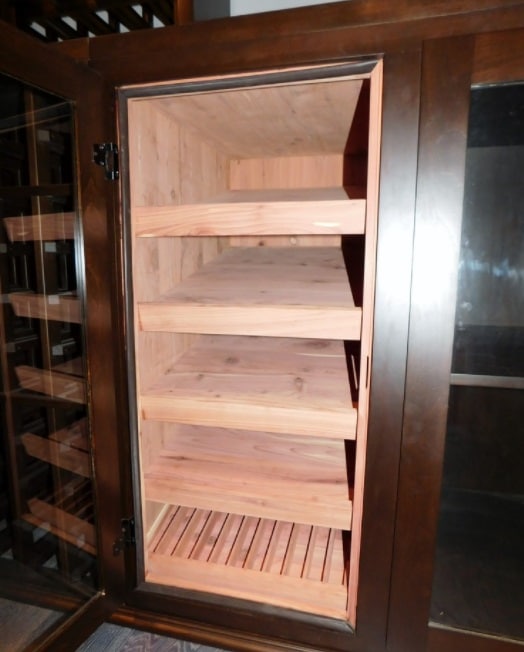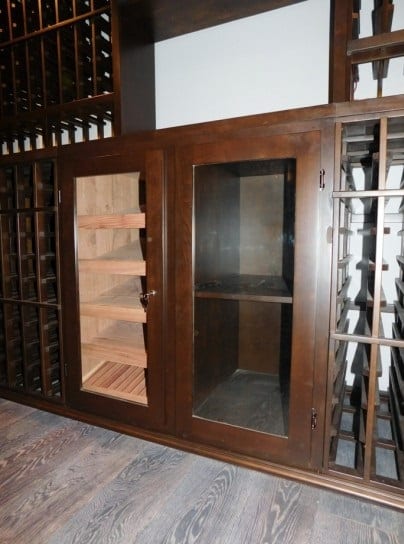 The humidor cabinet was lined with Spanish Cedar, which is a material used to keep the temperature level inside the cabinet higher than the temperature in the cellar. The humidor was designed to have an individual cigar tray and four shelves for displaying cigar boxes.  
A Glass Wall and a Glass Door for the Contemporary Design Los Angeles Wine Cellar

 
 A seamless, half-inch thick glass wall was installed in this basement wine cellar in Los Angeles. We also mounted a dual pane tempered glass wine cellar door. The type of glass used was commercial-grade to avoid fluctuations in the temperature and humidity levels in the wine room.  
A Ductless Split Wine Cellar Cooling System Installed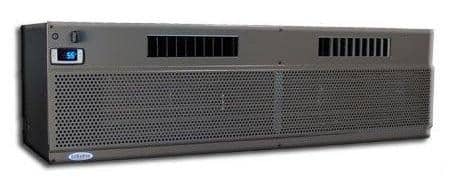 Each wine cellar needs a different HVAC equipment. The appropriate cooling system for a wine storage facility depends on various factors, such as the size of the room and its bottle capacity. An expert HVAC technician has to be consulted in order to determine the best refrigeration unit for any climate controlled storage structure.  
In this Los Angeles contemporary design wine cellar, we had an HVAC specialist join our team. The wine cellar cooling expert performed a heat load calculation in order to determine the room's British Thermal Unit (BTU) requirement. The residential wine room was 1,300 cubic feet with over 100 square feet of glass. The HVAC technician determined that the most appropriate unit to install was a Model 8000S ductless split system from CellarPro.  
CellarPro is one of our most trusted partners in building wine cellars in California. They are well-known for manufacturing robust cooling units for wine cellars.  
Got an Unused Space in Your Los Angeles Home? Turn It Into a Contemporary Design Wine Cellar!

 
There is no space too large or too small for a master builder to turn into a residential wine room. If you have an unused area in your home – whether a large basement or a small closet – we can help you transform it into a beautiful wine cellar. Talk to our design specialists today! We'll help you create the Los Angeles contemporary wine cellar of your dreams! Click here!