Choose the Best Wine Cellar Cooling Units for Hot Los Angeles Weather
Los Angeles is a great place to live because of its weather. But, with occasional hot streaks and chills, your wines can be at risk. This is why it's important to have a cellar built with a high-grade wine cooling unit installed by a trusted refrigeration contractor. Learn about the different types of HVAC units, so that you can choose the most appropriate equipment for your wine storage facility.
Why is a High-Grade Cooling Unit a Necessary Component of a Wine Cellar in Los Angeles?
True-blooded wine enthusiasts understand how a bottle of fine wine can easily spoil if kept in an environment that is too hot, too cold, or worse — one that has constantly fluctuating temperature levels! This is why homeowners and commercial establishments in Los Angeles invest in the construction of wine cellars because they intend to store and age wines for long periods of time.
A lot of people choose to have their wine cellar built in their basement. The usual reason for this choice of location is because most people believe that their basement is cool all the time. However, many HVAC specialists have found that not all basements are as cool as people assume. Some basements have temperature levels that regularly and drastically fluctuate.
The fact is homes and commercial premises differ in temperature. Day-night cycles alone contribute to the varying temperatures. The coolness in an average house during day-time versus night-time can vary from 10 to 20 degrees. In restaurants and other commercial buildings, the temperature swings can be more intense! Add to that the seasonal variations brought on by the heating during winter and the air conditioning during summer, the shifting of temperature levels in these locations can be dramatic and unpredictable.
The variation in humidity is another issue. Radical changes in humidity alongside fluctuations in temperature can shrink the bottle corks and result in the oxidation of the wines. Oxidation causes wine to taste like vinegar and smell like wet cardboard!
The point is, regardless where you decide to have your wine cellar built, you will encounter problems with temperature and humidity. You cannot depend on the assumed natural coolness of your basement or any area to keep your wines at their best state. You need reliable equipment that can steadily keep the temperature and humidity in your wine cellar at the ideal levels. You need a reliable wine cellar cooling unit, especially in Los Angeles!
Ideal Temperature and Humidity Levels in Any Wine Cellar in Los Angeles
Historically, people in the past used deep underground spaces and caves as storage places for their wines. This is because these areas had a temperature that ranged from 50 to 55 degrees Fahrenheit. Other reasons why these locations were used as wine storage facilities include the absence of direct exposure to the sun's UV rays and no vibration from outside sources. In our time, we build wine cellars with cooling systems installed to recreate the environment in those underground spaces and caves.
The ideal cooling system for wine cellars is one that can keep the storage space consistently cool at approximately 57 degrees Fahrenheit and relatively humid at 50% to 60%. You need an HVAC expert to help you find the right refrigeration equipment that can provide your cellar with the ideal temperature and humidity.
Three Primary Types of Wine Cellar Cooling Systems in Los Angeles
On the market, there are various kinds of wine cellar cooling systems. In Los Angeles, these refrigeration units can be categorized according to these three types:
Self-Contained Through-the-Wall Cooling Units
Ductless Split Type Refrigeration Systems
Ducted Split Air Handler HVAC Units
1. Self-Contained Through-the-Wall Type
Self-contained cooling systems are the least expensive types and are relatively easy to install. The equipment comes in one piece — simply mount it on the wall and vent it through the wall.
If you decide to install a self-contained wine cellar refrigeration unit, choose the best wall for its placement and have an adjoining room for the exhaust. Most self-contained HVAC systems need to be mounted on an interior wall and exhaust warm air to an adjacent room.
This exhaust room has to have a proper ventilation setup, in order to accommodate the heat vented by the cooling unit. Experts recommend using either a furnace room, garage, basement, or mechanical room as the exhaust room. Ideally, the adjacent room should be at least the same size as the wine cellar.
A few self-contained wine cellar refrigeration units can be installed on an exterior wall. If this is the kind of unit you want for your wine cellar, make sure that the manufacturer offers a model that can operate in temperatures up to 105 degrees Fahrenheit.
2. Ductless Split Type
Unlike self-contained cooling units, ductless split type wine cellar refrigeration systems require no venting into an exhaust room. The equipment's condenser, which is the component that produces heat, is installed at a separate location from the cellar. The evaporator, which is installed in the cellar is connected to the condenser through a line set. A line set is composed of a cluster of small copper tubing and electrical wiring. No ducting is used in this cooling system setup.
3. Ducted Split Type
The third option is the ducted split type cooling systems. In this setup, cool air is provided to the wine cellar via ducts. Unlike the ductless split type refrigeration systems, the ducted split type does not have any equipment visible in the wine cellar at all.
The Right Cooling Unit for your Wine Cellar – Talk to an Expert in Los Angeles!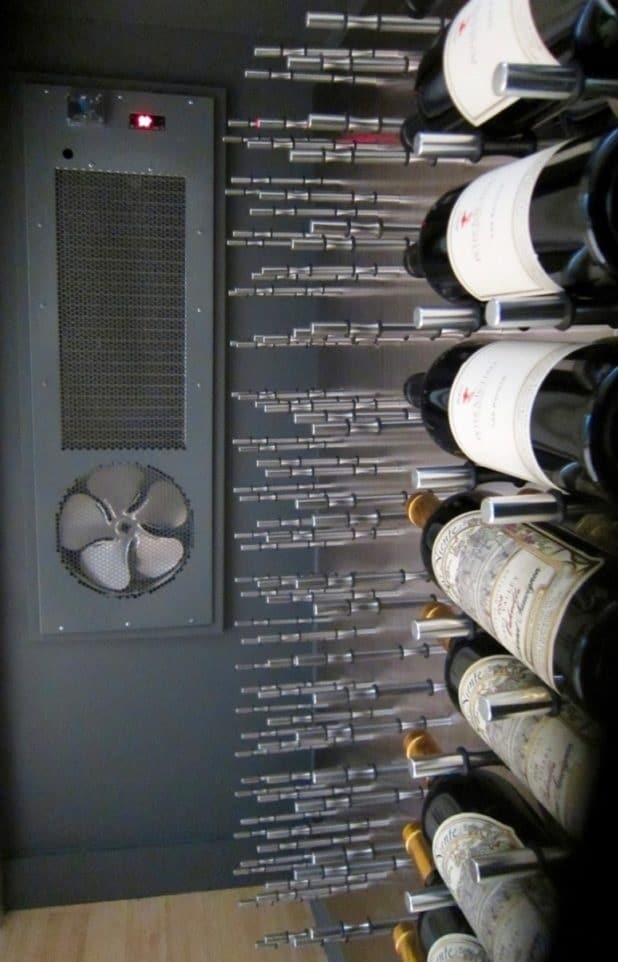 Custom Wine Cellars Los Angeles has long been known for creating functional and dependable storage facilities in California. Together with our partners in the wine cellar construction industry, we make sure that all the storage rooms we build meet the needs of our clients. Need advice on what cooling unit is best for your commercial or home wine cellar? We can help you with that! Call us today at (323) 825-9846!