Storing Wines in Los Angeles Wall Mounted Wine Cellar Racks
Wine racks in California come in various styles, sizes, designs. One of the most popular types is the wall-mounted racks. Learn about the advantages and disadvantages of wall-mounted wine racking systems by reading through this article.
Wall-Mounted Wine Racking Systems in Los Angeles California
Wine storage racks come in many forms. There are freestanding wine racks which are usually made of wood or fabricated metal. Some are tabletop wine racks that can be placed on kitchen countertops and add style to one's kitchen. Some wine racks are creatively wall mounted in various areas in the home.
Advantages and Disadvantages of Wall Mounted Wine Racks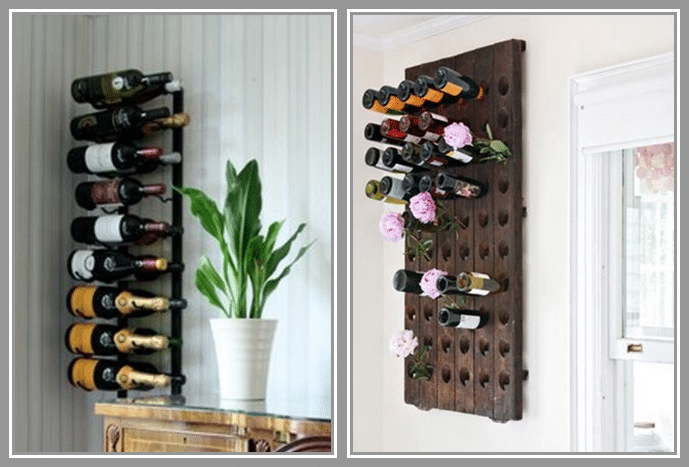 Los Angeles wall mounted wine racks are unique. They can be a substitute for wall decors and flash a statement of the enthusiast's collection and passion. It may as well take the place of paintings on canvas.
Wall mounted wine racks can accent bare walls, arches, or entries to different areas of the house. For small, cramped apartment dwellers, residents can still collect wine as wall mounted wine racks are great space savers.
They are easy to maintain as most are made of polished wood, fabricated metal or steel. One can customize its design and mounting based on the bottles to be stored on the wall mounted wine racks and the available space on the wall. This is done without compromising aesthetics and safety of the wine collector's bottles.
Wines stored on wall mounted wine racks are easily accessible and tracked. Wine bottles themselves are easy to wipe clean as they are practically within one's reach. At parties with friends and fellow enthusiasts, wall mounted wine racks are good conversation pieces because of their uniqueness, durability, and aesthetic beauty.
Although a wall mounted wine rack is a beauty, it may wreak havoc to the wine bottles if the walls are facing direct sunlight from windows. This would mean varying degrees of warmth during the day and exposure to the rays of the sun. It is common knowledge among wine enthusiasts that temperature and humidity should be stabilized as much as possible to preserve the wine's quality.
Wine racks will also only house a few bottles which may not suffice if the massive collection has reached the hundreds. Since the wine rack is mounted on the wall, the bottles may not be safe during periodic ground vibrations or earthquakes. It is wise to choose a location for them where there is less vibration.
Choosing wall mounted wine racks is an innovative idea when keeping in mind the factors that can affect the quality of wine. If the room is relatively cool and is not facing direct sunlight, then it could be the perfect place to mount the wine racks.
Wine enthusiasts and collectors should seriously consider the pros and cons of wall mounted wine racks such as the safety and maintenance of the quality of the wines as it will be of utmost importance for them.