Take the Design of Your House to a Whole New Level – Hire a Wine Cellar Builder in Santa Monica, California
We take pride in introducing our latest construction project – a residential custom-designed wine cellar in Santa Monica, California! The client in this project hired our team of contractors to build him a distinctive wine storage facility that could accentuate the overall style of his home.  
An Under-the-Staircase Wine Cellar Built for a Client in Santa Monica, California

 
There are two reasons why a residential wine cellar is built, and they are: 
To provide a convenient and easily accessible storage area for a wine collection and

 

To improve the aesthetics of a home.

 
For a wine cellar to fulfill its purpose, it has to be both functional and professionally designed. This is why homeowners should hire an expert that specializes in building wine storage facilities, like Custom Wine Cellars Los Angeles.  
We, at Custom Wine Cellars Los Angeles, are among the most trusted master builders in California. We have a plethora of experiences in constructing long-lasting, dependable, and beautifully designed wine storage systems for both residential and commercial purposes. The project we completed for the client in Santa Monica is one of our most recent works. 
The client in this project hired our team to build him a wine cellar underneath his staircase. Our builders visited the site to assess the area. It was a tiny L-shaped enclosure with a descending ceiling.  
Our team sat down and consulted with the client regarding his storage needs and his design preferences. After a thorough discussion, our designers created 3D drawings of the proposed wine cellar design. We presented the client a series of revisions before he finally decided on a design that he liked. Once the proposal was approved, we began the construction.  
Distinctive Features of the Under-the-Stairs Custom Wine Cellar

 
Our team faced two big challenges in this project: the smallness of the area and the irregular shape of the space. We had to be strategic in selecting the types of wine racks to install, in order to maximize the limited space. With the design that was approved, the cellar we planned to build could accommodate up to 404 wine bottles.  
A Variety of Wooden Wine Racks Installed

 
The wine racking styles used in this project were chosen based on their capacity to maximize the limited space in the cellar. All of the racks installed were made from Philippine Mahogany, which is one of the most popular materials used in building cellars. Philippine Mahogany remains durable in humid conditions. This is why it is perfect for climate-controlled storage rooms. A Chappo stain with lacquer finish was applied to add luster to the wooden racks.  
Six inches deep horizontal display racks were installed in this project. These racks had a label-forward orientation. This means that the wine labels are in full view, which makes it easier for the client to identify favorite bottles at a single glance. The top section of these horizontal display racks had a step stair design to accommodate the descending height of the ceiling.  
At the lower section of the back wall, we installed custom-built diamond X-bins. These wooden bins were meant for bulk storage. Above the diamond bins, we mounted single storage wine racks that had 3 ¾" x 3 ¾" openings. These individual storage racks can accommodate standard-sized wine bottles.  
A beautiful high reveal display row ran across the individual storage racking system. This display row tilted the featured bottles at a 15-degree angle, which is helpful in keeping the wines in constant contact with their corks. Corks need to be kept moist by wine because if corks dry out, they shrink. Air can easily enter the bottle and spoil the wine, if corks are shrunk.  
The high reveal display is where the client can highlight his most prized bottles. A dramatic LED lighting system was installed to elegantly illuminate the featured wines. Display rows are also useful in organizing bottles. The client can simply store like wines above and below the display row.  
On the end wall of the cellar, we installed more individual storage racks. We also built open bins to provide additional space for bulk storages. The racks on the end wall were intentionally made shorter than the other racks in the cellar, so that the top section can be allocated for the HVAC equipment.  
Custom-Designed Wrought Iron Cellar Door for the Wine Room in Santa Monica, California

 
A Seville-style wine cellar door was installed in this Santa Monica project. The wooden entryway had an operable wrought iron gate installed over a dual pane glass. The wrought iron gate was built with a latch that could be opened when the door needed cleaning and maintenance.  
Cooperage Flooring from Reclaimed Wine Barrels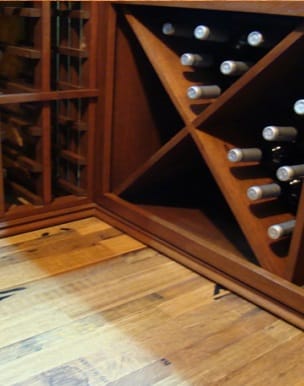 After wine barrels have served their purpose, wineries often sell these wooden containers because there can be many other uses for them. One of the many uses is for wine cellar flooring. Reclaimed wine barrels are converted into wooden strips, so that they can be used as wooden tiles.  
There are three parts of a wine barrel, namely: stave, infusion, and cooperage. Each part offers different features. In this Santa Monica construction project, we used wine barrel cooperage.  
The cooperage refers to the top portion of the barrels. This part has markings and stampings made by the wineries to label them. The markings and stampings add an interesting character to the wine cellar.  
A Robust Wine Cellar Cooling 

 
A dependable refrigeration system is an integral part of a functional wine cellar. A high-quality HVAC unit can ensure that the temperature and humidity inside the storage facility are kept at the ideal levels. In the Santa Monica wine cellar, we installed a Platinum Mini Split Cooling System from WhisperKool. This HVAC system was specially designed for small storage spaces and irregularly-shaped rooms.  
Want your own distinctively designed wine cellar? Contact a master builder today! Click here!