Master Builders Convert a Garage in Pacific Palisades, Los Angeles, California, into a Custom Wine Cellar
The size of a wine collection determines the kind of storage structure that a collector needs. Those, for example, who only have a few bottles can have a wine cabinet or a wine fridge in which to keep them. But, if you have over a hundred bottles or if you plan to continually expand your existing stock of wines, then you must invest in the construction of a larger storage facility, like a custom wine cellar. Recently, we helped a client in Pacific Palisades, Los Angeles, California, create a cellar in his garage to accommodate his growing wine collection.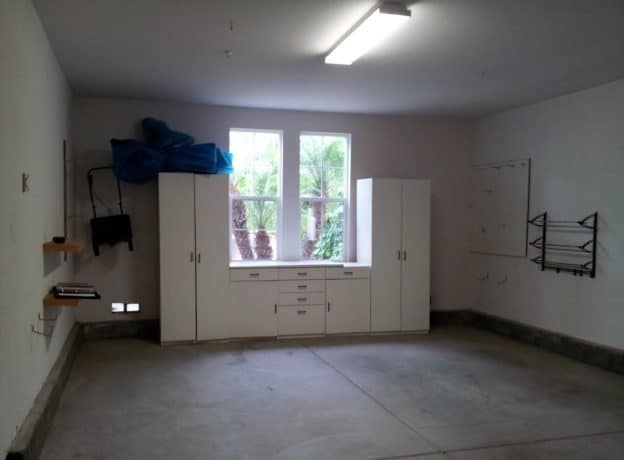 A Growing Wine Collection Needs a Cellar with Adequate Storage Capacity
We take pride in one of our most recent and successfully completed construction projects in Pacific Palisades, Los Angeles, California. The client is a surgeon who is also a wine enthusiast. He owns a collection of over a hundred bottles that he gathered from various countries throughout his travels. Originally, he had a wine cabinet where he kept all his bottles, but he suddenly had the need for a bigger storage facility.
This client had a relative who owned a much larger wine collection. That relative had just passed away, and our client inherited all of his wines. From having around a hundred plus bottles, the client suddenly had over a thousand wines on hand. This unexpected increase in wines meant that he needed more than a cabinet to keep them. The client had a large, 4-car garage that was unused. He contacted our team of builders to convert this garage into a functional custom wine cellar.
Designing the Modern Style Wine Cellar in a Garage
As is our usual working process with all our clients, we set up a series of meetings with the Pacific Palisades client, in order to discuss his vision of his wine cellar. After comprehensive consultations were completed, our design specialists created drawings of the planned wine cellar construction. Then, as soon as the client approved the sketches, the construction began.
Originally, the goal was to renovate the garage into a wine storage facility that could accommodate approximately 1,500 wine bottles. But, since the client was an avid collector, we anticipated that his current collection was going to continually expand. To provide flexibility and allow space for the expected growth of his collection, our team of builders found ways to create more storage capacity than originally planned. The back half of the garage was enclosed, so that we could build a cellar that was 17 feet wide and 10 feet deep. The modifications that our team applied was the reason why the final cellar design could house up to 2,138 bottles!
Customized Designs for the Wooden Wine Racks
Since the client's collection consisted of bottles that vary in size, the wine racking systems we installed were custom-designed to provide storage for all of the client's wines. There were racks for standard-sized bottles and large-format bottles.
All of the racks were made from Mahogany, which is one of the most durable wood species used in building climate-controlled storage rooms. To enhance the wooden wine rack's aesthetics, we applied a cherry stain and a satin finish.
Racking Systems on the Wine Cellar Back Wall
Across from the wine cellar door was the back wall where we installed a granite table top with a gorgeous lattice arch. Surrounding the table top were label forward horizontal display racks where the client can keep his favorite vintages. Below the table top, we mounted a set of wooden cabinets and drawers where the client can store his tasting rudiments, such as wine glasses, napkins, bottle openers, etc.
On the left and right of the bottom half of the back wall, we installed wooden diamond bins for bulk storage. In the middle section of the wall, we included a high display row. The rest of the racks on this wall were single bottle slots for standard-sized wines.
Racking Systems on the Left and Right Wall
We installed individual bottle storage racks on the left and right walls of this wine cellar. We also included high reveal display rows for showcasing featured wines and diamond bins for storing magnum-sized bottles. Our builders also added wooden cases on both the left and right walls for large-format wines. These cases were mounted on roll out shelves, so that the client easily access them.
A small space was kept open on the left wall. It was meant for the installation of a wine cellar HVAC system.
More Custom-Designed Racks at the Wine Cellar Entryway
Our team of builders installed a quarter-round display wine racking system at the entry area of the cellar. Immediately after these racks, we mounted diamond bins. Above these bins we built single bottle storage slots and a high reveal display row.
At the center of this gorgeous wine room, we installed a freestanding tasting table with a granite tabletop. The front section of this tasting table had individual bottle storage racks. The back section had label forward displays.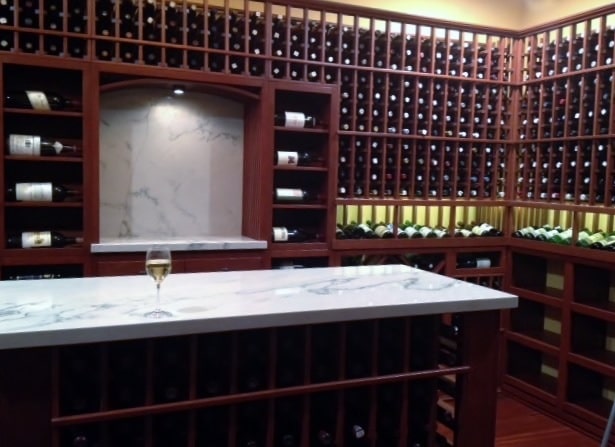 Stellar Wine Cellar Lighting System Installed
The ideal lighting system for climate-controlled storage structures are those that emit minimal heat and are energy-efficient. For the Pacific Palisades garage wine cellar, our team installed LED lighting fixtures to create a stunning ambiance in the wine room.
Installation of a Dependable Wine Cellar Cooling System
An expert HVAC technician installed the cooling unit in this project. The refrigeration equipment of choice was a CellarPro VSX, which is an exterior vent, self-contained cooling unit. It also had amazing features, such as an electronic thermostat, adjustable humidity control, and digital LED display.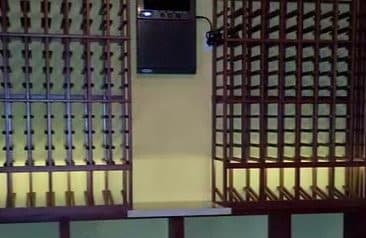 We can help you build your dream residential custom wine cellar. Call us today and we'll offer you 3D drawings of the wine storage facility that you've always wanted. Click here to talk to our experts!