Choosing the Ideal Wood for Your California Wine Cellar
Once you have decided to expand your wine collection and want to have good wine storage like having your own residential wine cellar, there are a few things that you have to consider.
Pine is naturally beautiful and versatile. It shows attractive color when stained, painted, or polished. The disadvantage of pine is its low resistance to mold. Because of this, it can't last long in a wine cellar environment since the humidity is maintained between 50-70%, making pine wood more susceptible to mold growth. Wine racks made from pine have low resistance to shock and weak bending capacity.
Redwood- which is of two species: all heart and premium redwood- has natural wood preservatives that allow wine racks constructed from it to withstand humid conditions in California custom wine cellars. On the other hand, the durability of mahogany makes it an ideal wood for wine cellar construction. Mahogany wine cellar racks have good resistance to decay and mold, thus it can withstand high humidity levels.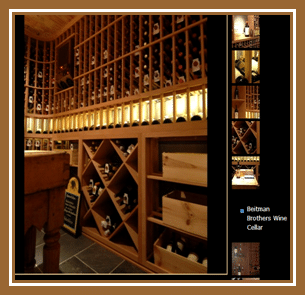 After learning the different kinds of wood, one should know if they are good to be stained or not. Stains are applied to the wood to make its color more vibrant. Some customers want to have a furniture grade look when it comes to their wine cellar. Others want their wine cellar to have a rustic appeal, so it is important to be knowledgeable about characteristics of wood species.
Pine and mahogany wine racks
look great when stained and applied with lacquer. On the other hand, redwood is not recommended for staining due to the presence of oil in it. Thus, if you opt to use Redwood, it is best to just leave it unfinished. I've seen unfinished redwood wine racks in some of the
completed wine cellar projects of Coastal Custom Wine Cellars
and they really look beautiful!
When it comes to staining, there are many varieties of stains that can be used. The dark walnut stain which is a deep golden brown; lacquer finish, which is done by applying multiple applications of clear coat sealant, is done by using hand-sanded treatments; and the classic mahogany stain that gives wood a reddish brown finish.
Lastly, it is best to know the price of each kind of wood and compare them. Doing this will keep your project within the budget. The cheapest of the three common available wood species for wine cellars is pine because of the large bulk of supply of pines on the market.
When it comes to redwood, heart redwood is much more expensive than premium redwood because it comes from the center of the log and is more resistant to rot and moisture. Mahogany, particularly Dark Red Mahogany, is an expensive species because of its classic grain pattern. Its color ranges form red to reddish brown.
By keeping in mind the information given above, you will be able to choose the best and most cost-efficient wood material for the construction of your wine cellar. Choose wisely because wood contributes a lot to having a beautiful and functional wine cellar.