Coastal – a Trusted California Custom Wine Cellar Builder
Genuine wine enthusiasts will invest in quality wine storage systems because they know how important it is to keep wines in the right conditions. Coastal Custom Wine Cellars is a trusted wine cellar designer and builder in California. They are also partners with the best wine storage dealers to create the best wine cellars for residential and commercial purposes.
Coastal Custom Wine Cellars – Wine Storage Specialist in California
Whether your objective is to age your wines for entertainment or long term storage, it is important that you have a wine cellar that suits your requirements, budget, and aesthetic preferences. Planning and consulting with the right California wine cellar builder is essential for you to be able to have a functional and beautiful wine cellar at home or in your commercial establishments; one that you will be proud to show off to family, friends, and acquaintances.
Experience High-End Wine Cellar Products and Services
Coastal Custom Wine Cellars is the answer to your search for a reliable, creative, reasonably priced wine cellar builder. Coastal has been in the wine cellar industry for more than 10 years which makes them experts in the field.
The team's objective is to build the right wine cellar for each customer. No job is too small or too big for this group of achievers. Clients who want to have their own wine room turn to Coastal for simple custom wine room conversions.
Coastal has been involved in big residential and commercial projects. Big or small, clients trust Coastal to give them what they need without hassle and without breaking the bank. To view their wine cellar gallery, click here.
Products and Services
Coastal offers a wide array of products needed to complete your wine cellar for it to function as it should and to display your collection attractively. You name it, they have it – wine rack kits, custom wine cellar doors, wine barrel carvings, wine cellar cooling systems, wine cellar flooring, cooperage countertops, and a lot more!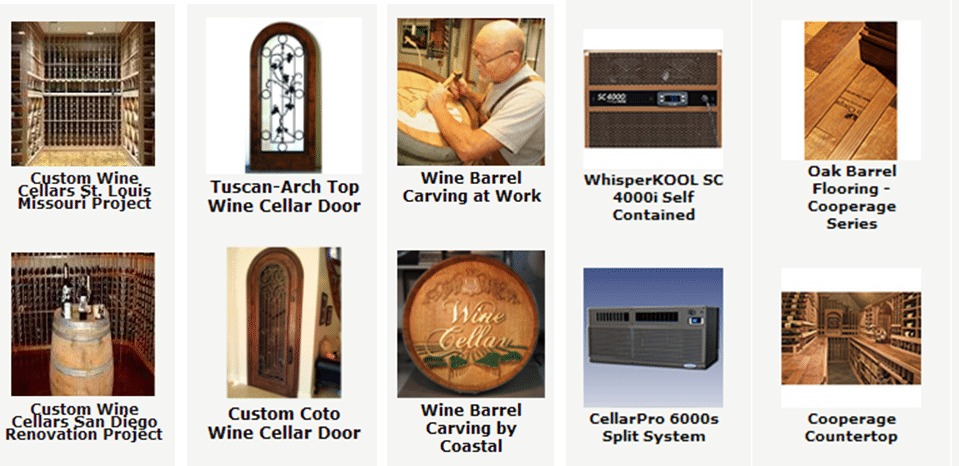 They also offer services which clients can access even after the last piece of wine rack has been installed. They also offer free design and consultation with no obligation.
They willingly present custom wine cellar possibilities and options to potential and return clients. For online orders, they offer free shipping which will greatly cut additional cost for the client. Talk about service to the maximum level!
Coastal Website
Their website alone presents clearly the products and services they have for clients. The merits of their products and availability are also found there.
This truly helps clients in their research of high-end products and services for wine cellars. Coastal products and services are described and discussed as accurately as possible so as to encourage clients to contact them for further questions and clarifications.
The website also includes pictures and videos of the wine cellar products they sell and the projects they did in different parts of the country. This truly gives clients an idea of how Coastal makes plans into action.
Have Your Custom Residential Wine Cellar Designed by Coastal!
Coastal Custom Wine Cellars consistently provides clients with attention to their needs all throughout the course of designing, planning, construction, installation, and after sales service. Products they use for cooling the wine cellar, as well as the wood they use for the wine storage racks and flooring are assured to be of great quality but reasonably priced. What more can a client ask for?