Los Angeles Wine Cellar – a Unique Feature of a Home
You are a wine collector who would love to build a residential wine cellar that will satisfy your hunger for style while providing a safe place for your wine collection. A long time ago, basements were used for wine storage. What if you don't have a basement? Can any space be converted into a custom wine cellar, even a small closet? The answer is a big YES!
The most important things to keep in mind in a home wine cellar conversion project are the number of bottles you are planning to store for long-term aging, the location of your wine cellar, the existing theme of your home, and your budget. Choosing a wine cellar designer and builder that offers excellent service and craftsmanship and high quality products is also very important.
In Los Angeles and in and around North America, the most trusted company is probably Wine Cellars by Coastal. The members of their professional team have extensive knowledge in designing and installing custom wine rooms.
Their goal is to ensure proper preservation of your collection and add a unique feature in your home. Whichever space in your home you want to use for wine storage, your dream wine cellar will come to reality! Check out one of the wine cellar projects they have completed in Los Angeles, California.
Los Angeles Wine Cellar for a Contemporary Home
The wine racks installed in this Los Angeles custom wine room are made of metal, popularly known as Vintage View Metal Wine Racks. These wine racks created a visually appealing wine display and storage for the client's precious vintages. For the finish, brushed nickel was used.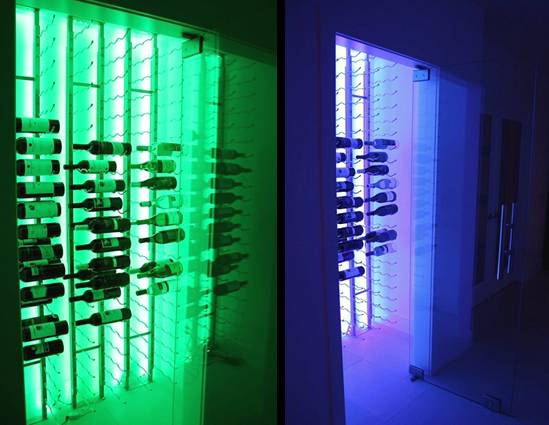 Metal wine racks are also in demand in the wine cellar industry because they provide convenience when it comes to visibility of the wine labels, thus eliminating difficulty locating a specific wine. They also allow effective distribution of liquid temperature and an open air flow around the wines.
If you need assistance with closet wine cellar conversion, simply call Coastal at (888) 735-8889 or start your project by requesting a 3D wine cellar design for FREE from us!