These Exceptional Glass Wine Cellar Designs Will Inspire You
A glass wine cellar will not only add a luxurious appeal to your wine room but will also provide a clear view of your prized collection from your dining room or entertainment area. At Custom Wine Cellars Los Angeles, we work with premier designers and builders of modern wine rooms. One of them is Vintage Cellars. Their glass wine cellar designs will amaze you!
Modern Glass Wine Cellar Designs Created by Vintage Cellars
Interiors with modern design are becoming more popular among homeowners, builders, contractors, and architects. Vintage Cellars, one of our dealers in wine cellar construction, has built modern wine rooms for avid wine collectors.
Their team is composed of creative experts who are passionate about helping clients who want a luxurious-looking wine cellar. They have been in the construction industry for many years now. Check out some of the jaw-dropping designs they created.
Two

Modern Glass Wine Cellar

s

Built in a High-End Home in

San Diego, California
Vintage Cellars built two elegant glass wine cellars in a high-end home in California. The wine room downstairs was intended for long-term storage and entertainment. This large wine cellar located in the entertainment area, provides a perfect place for the owners to host wine-tasting parties and celebrate special occasions.
It features a wooden wine rack system that combines various racking styles. Upon entering, you will be greeted by a large countertop space ideal for decanting and serving wines. The waterfall wine rack is located on the right side of the wall, displaying the bottles beautifully in a cascading manner.
Vintage Cellars also installed individual racking, diamond bins, and a high reveal display row. The lights add a dramatic feel and sophistication to the wine room. The wine refrigeration unit was placed under the counter to conceal it from view.
They used custom stainless steel frames for the doors and windows. A dark patina coating was applied to the metal framing and wine racks to achieve a sleek look and accentuate the wine cellar perfectly.
The glass wine cellar upstairs has contemporary features consisting of metal wine pegs, glass doors, and backlighting. The metal and acrylic rods hold the bottles with elegance, creating an illusion of bottles floating in the air. The backlit panel highlights the 700 bottles on display.
Minimalist

Contemporar

y Glass Wine Cellar in Sa

n Diego, California
The homeowners have a wine bar located in the living area. They sought the help of Vintage Cellars because they wanted to add a contemporary glass wine cellar adjacent to it. The team utilized a good amount of glass, metal, and clean lines to match the existing décor of the home and create a beautiful display of the client's world-class collection.
The minimalist wine cellar design created by Vintage Cellars complemented the open layout of the home. To match the glass elements on the staircases, the team of experts added a sliding glass door in a metal frame. They installed wall-mounted metal wine racks from VintageView on the three walls of the wine cellar.
The full horizontal contemporary wine racks display the bottles in a label forward orientation. Since the labels are facing out, it is easier to read the labels and locate a specific type of wine. There is no need to flip the bottle to see its description. The total capacity of this modern wine room is 1,200 bottles. The wine cooling unit was ducted into the wine cellar so there is no equipment visible inside the wine room.
Aquarium-Like Glass Wine Cellar

in San Diego, California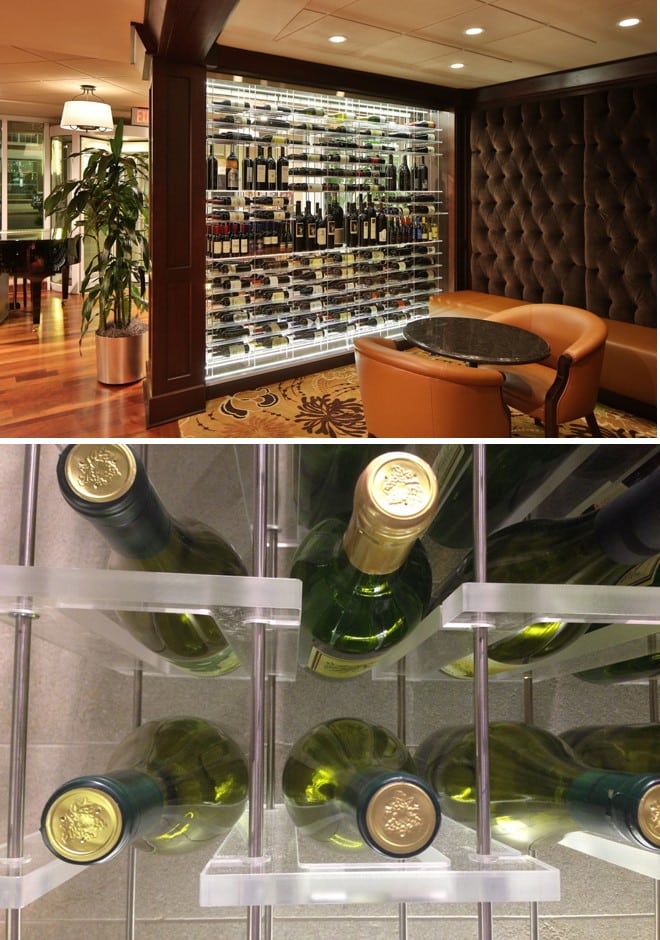 Vintage Cellars created another stellar glass wine cellar design for a client in California. In this project, they created a glass-enclosed wine display that looks like an aquarium and an art display.
They installed Evolution Series metal wine racks from VintageView. The bottles are held in acrylic panels supported by metal bars.
Some of the bottles are laid horizontally with the labels facing out, while some bottles are stored with the bottle caps out. There are panels intended to hold the bottle vertically. The overall design of this wine cellar brought the home to a completely new level. LED lights were placed strategically to create a captivating wine display of the bottles.
Ultra-Modern

Glass-Enclosed

H

ome Wine

Cellar

in Newpor

t Beach, California
This glass wine cellar completed by Vintage Cellars in Newport Beach is a sight to behold. It is the focal point in the main living room of the home. Vintage Cellars came up with a racking system for more than 1,000 bottles.
They installed floor-to-ceiling and wall-mounted wine racks from VintageView. The label forward orientation allows for easy wine perusal. To maximize the capacity of the wine room, they used double-deep wine racks and incorporated wooden case storage slots. They also added a stone countertop with individual wine racks below it.
A stone bar extends to the glass wine cellar. The Vintage team had to seal off the joints because stone can transfer heat to the wine room and cause condensation build-up. With proper planning and design, the team came up with a top-notch quality and eye-catching wine display and storage area despite the technical and mechanical challenges.
Build an Exceptional Glass Wine Cellar Design for Your Collection
Do you want your wine room to stand out from the rest? Why not go for a glass wine cellar designed and built by experts in California? At Custom Wine Cellars Los Angeles, we will build a luxurious-looking wine display according to your requirements. You may reach us at (323) 825-9846.