Home Makeovers: Cellar Builder Turns Garage into a Modern Wine Storage Facility 
Wine cellars in California come in different shapes, sizes, and styles. The designs could range from traditional to contemporary, depending on the preferences of the cellar owners. The most important thing is that the aesthetics of a wine storage room should reflect the personality of the collector. Take for example, the wine cellar we recently built in a garage in Los Angeles. Our team of builders made sure that every aspect of the design was according to how the client wanted it to be. When the construction was completed, the client was extremely satisfied with his modern-style wine cellar! 
A Wine Cellar Built inside a Garage Has Distinctive Features with a Modern Style

 
Custom Wine Cellars Los Angeles has built numerous residential and commercial wine storage facilities in California. In our experiences, we've learned that deciding on a design is one of the aspects of wine cellar construction that clients need help with. With the plethora of design options that can be found on Houzz, many clients find it difficult to decide what style they want for their wine room.  
In a recent project we successfully completed, we helped the client decide on a design for his wine cellar. This client had a 2-car garage, and he wanted a portion of that garage to be a dedicated wine storage structure. What our team did to help the client choose a wine cellar design was sit down with the client and thoroughly discuss his storage requirements and style needs. After gathering all the needed data, our designers presented him with a set of 3-dimensional drawings. These 3D sketches provided a better visualization of the planned construction.  
We had a number of revisions before the client decided on a design that he liked. The approved blueprint was a cellar that was 11' in length and 5' in width. It had various features that combined traditional and contemporary styles, in order to achieve a modern look. The proposed wine cellar had a capacity of 725 bottles.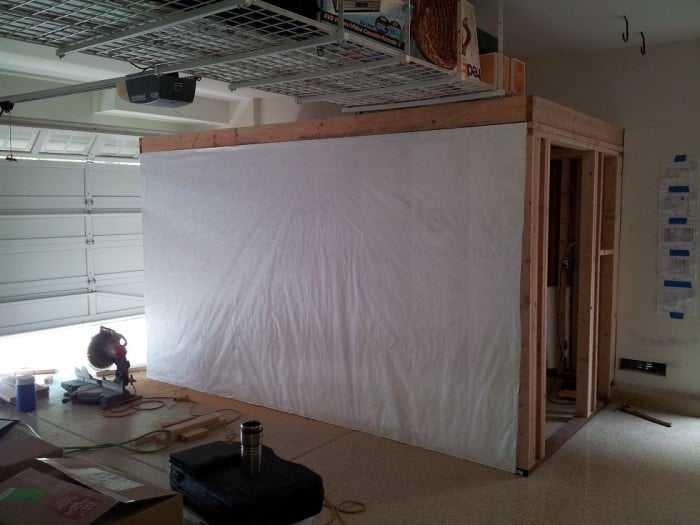 The Los Angeles Garage Wine Cellar was Built with Fabulous Features 

 
The client wanted a distinctively designed residential wine cellar. What our team did was fuse elements from traditional and modern wine rooms to create a unique style for his garage wine storage facility.  
1. Different Wine Racks to Accommodate Varying Bottle Sizes

 
The client's collection was composed of wines from various wineries all over the country. There was an assortment of bottle sizes, which meant that he needed a storage structure that had slots for all shapes and sizes of bottles.  
We installed single bottle storage racks on the right wall. These slots had 3 ¾" x 3 ¾" openings, and were meant for storing standard 750ml bottles. The client kept his standard champagnes in these racks, as well as his Zinfandels and Oregon Pinots.   
We added a tabletop so that the client could have a space for serving wines. Underneath the tabletop, our team built drawers where the client can keep napkins, cork openers, and other wine tasting rudiments. Below the drawers were diamond bins that were intended for bulk storage. 
Our team of builders installed storage racks for large-format wine bottles on the left wall. We also built large wooden cases for bulk storage.  
We also constructed a quarter round shelf. Wooden boxes for magnum-sized wines could be displayed on this shelf. Label-forward racks were installed for 1.5-liter, 3-liter, and 6-liter bottles. The label-forward orientation of the racks made it easy for the client to identify his prized wines at a distance.  
A stunning high reveal display row that stretched through the entire perimeter of the garage wine cellar pitched featured wines at a 15-degree angle. Dramatic LED ribbon lights were installed behind a valance to highlight the displayed bottles.  
2. Tuscan-Style Custom-Designed Door for this Los Angeles Garage Wine Cellar

 
The entryway of a cellar sets a preview of what to expect inside the storage room. This is why a cellar door should complement the overall design of the custom wine cellar. In this garage wine room, we built a Tuscan-style door with dual pane glass and a wrought iron grill.  
The wrought iron grill had intricate design details of grape vines and leaves, which remind us of a vineyard ambiance. The grill was operable, which means that it could be opened and closed. This is necessary so that the door can easily be cleaned and maintained.  
We used dual pane glass to make sure that the cellar is tightly sealed. Plus, dual pane glass prevents condensation formation.  
3. Installation of a Commercial Grade Wine Cellar Cooling System

 
A wine cellar is useless without an efficient cooling unit installed. Each wine cellar has different storage requirements, and therefore, need a different refrigeration system. An HVAC technician is necessary to determine the appropriate cooling system for any wine room.  
In the Los Angeles garage wine cellar, our HVAC experts installed a self-contained refrigeration system manufactured by CellarPro. The equipment had an exterior that vented our warm air into the outdoors. The external component of the unit had an extended cover to protect it from the elements.  
Get Your Own Customized Wine Cellar Design from an Expert!

 
We, at Custom Wine Cellars Los Angeles, take pride in the numerous wine storage facilities that we've built over the decade. In all of these construction projects, we've always had great feedback from satisfied clients. If you're thinking about having your own residential wine cellar built, let us do the honor of designing it for you! We can help you achieve your dream wine room! Call us today, and let's talk! Click here!