Temecula California Wine Cellar Refrigeration Installation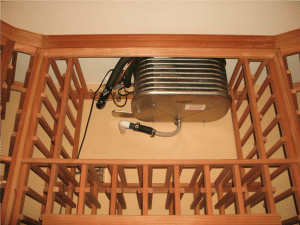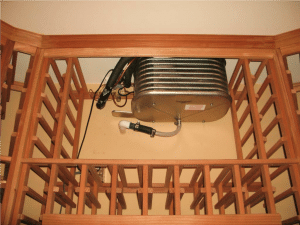 Efficient and cost effective wine cellar refrigeration systems are a vital component of a good home wine cellar installation. As well as ensuring your wine collection ages properly it can help to make sure you do not experience that which is the, dread of all residential wine cellar owners, mold.
Always work with experienced wine cellar builders. At Custom Wine Cellars Los Angeles we like to share with you examples of specialist cooling systems companies work. In this project by Arctic Metalworks they installed a state of the art split wine refrigeration system.
In this project in Temecula, which is near Riverside in California, you can see how the wine cellar cooling unit was installed in such a way as to make it both efficient and unobtrusive.
Efficient Wine Cellar Cooling System – Custom Wine Cellar in Temecula Riverside California
It is a split system, a wine cellar refrigeration system that has the compressor located in a separate location to the evaporator. This improves efficiency and makes for a much quieter wine room.
As you are able to see from the pictures Arctic Metalworks installed the refrigeration system's evaporator behind a custom made wooden grill using identical wood as the wine racks. This made the cooling system blend unobtrusively into the wine cellar.
Integrated Home Theatre & Wine Cellar Refrigeration System
In addition to the wine cellar cooling system, Arctic also installed a special refrigeration system for the theater equipment room. To reduce the overall cost of the project and boost efficiency they installed two evaporator coils but only one condensing unit. The evaporator coils were installed separately into each room and connected to independent temperature control units. Both refrigeration systems evaporators were then connected to the condensing unit which was placed in an external location for optimal ventilation and noise reduction.
The custom wine cellar itself was built into an under stairwell space, specially insulated with a humidity protecting vapor barrier.
Arctic Metalworks is a local California based Wine Cellar & HVAC specialist Service Company based in Corona CA. Check them out at their website at ArcticMetalworks.com. They provide refrigeration services for many local commercial clients as well as for individual home owners.