Luxurious Modern Home Wine Cellar Design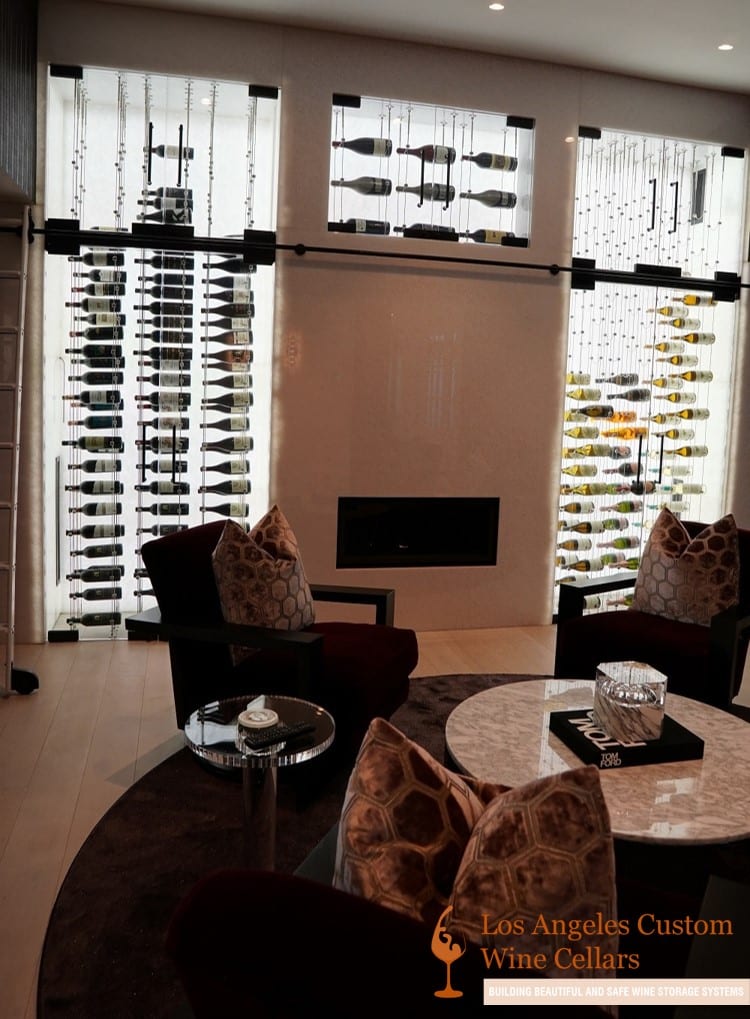 When creating a modern home wine cellar design, master builders incorporate metal and glass into the design. Coastal Custom Wine Cellars is widely known for its innovative wine storage systems. In one of their projects, they installed a wine cellar utilizing the popular cable wine racks and a sophisticated lighting system. Read on to learn more about this impressive wine room construction project.  
Modern Home Wine Cellar Design with Metal Wine Racks and Attractive Lighting

 
Coastal Custom Wine Cellars has proven its expertise in creating an innovative modern home wine cellar design utilizing meal wine storage systems. They offer innovative wine storage systems from top-notch manufacturers and suppliers.  
In one of their recent projects, they created a luxurious design for a high-end home residential home using the ultra-modern cable wine racks from IronWine Cellars. They also installed LED lights, making the wine display the focal point in the client's living room!  
Cable Wine Racks: Achieving a Modem Home Wine Cellar Design

 
Metal wine storage systems are perfect for creating a modern home wine cellar design. They look elegant and offer installation and design flexibility. They can bring boring walls to life and transform spaces into striking wine displays. In one of Coastal's projects, they built a luxurious wine cellar utilizing the Cable Wine Systems by IronWine Cellars.   
Features of Cable Wine Racks from IronWine Cellars: Why They are Perfect for a Home Wine Cellar Design 

 
Cable Wine Systems from IronWine Cellars are in demand among homeowners who want a minimalist wine display that can add a luxurious appeal to their space. Using strong tension cables, glass cradles, and clamps, cable wine racks can hold the bottles securely while displaying them as if they are floating in mid-air.  
In addition to adding aesthetic value to your home, Cable Wine Systems are also space efficient. Since they do not occupy floor space, they are perfect for wine rooms with limited space. Moreover, they can blend well with any existing décor.  
With proper planning and design, the Coastal team created a multi-faceted wine display, aiming to provide the owners with a well-organized and sophisticated wine storage system using modern wine racks.  
 The racking design for this home wine cellar consists of cable wine racks divided into five sections. Glass doors with metal pull handles were installed in each section, adding character to the modern wine display.   
Three small sections located at the topmost part of the racking are intended for storing large-format bottles. Below these sections are two larger areas for standard bottles separated by a fireplace. The wine racks installed are triple deep to maximize the bottle capacity of the wine room.  
Modern Wine Cellar Lighting Perfect for the Home Wine Cellar Design

 
The lighting system is a vital component in wine cellar construction. Using the correct type of lighting and placing them strategically in a wine cellar will result in a visually appealing wine display.  
Ideally, the lighting panel is made from acrylic. However, in this project, Coastal Custom Wine Cellars installed LED lights with alabaster behind the cable wine racks. The alabaster panel is a translucent material that allows partial light to pass through its small crevices and gaps. It has a grainy texture, which is enhanced when the lights are on. The lighting gives the panel miniature random patterns or marble-like streaks on its surface.  
Benefits of LED Lighting System for Wine Cellars

 
Why do master wine cellar builders recommend LED (Light-Emitting Diode) lights? Regular bulbs are not suitable for wine rooms because they can cause wine storage issues because they emit too much heat that can harm wines, unlike LED lighting systems, which emit a minimal amount of heat. Too much heat exposure can damage the quality of the wine. Another reason we use LED lights is that they consume less energy and have a longer lifespan compared to other types of lighting.  
Rolling Ladder for a Modern Home Wine Cellar

 
The design for this modern home wine cellar included a white rolling ladder to provide the owners easy access to the bottles placed high above the racking. The Coastal team installed a ladder railing so the ladder could be moved from one wall to another without lifting it.  
Glass Custom Wine Cellar Doors

 
Glass wine cellar doors add a luxurious touch to any space. In this modern home wine cellar design created by Los Angeles master builders, the glass doors add character to the residential wine room.  
The glass panels used were thermally insulated to prevent condensation build-up. This component is crucial in climate-controlled wine cellars. The correct insulation of the doors will prevent mold growth caused by condensation. Mold in the walls or ceiling can damage the structural integrity of your wine storage facility. It can also grow on the cork and contaminate the wine.  
Coastal Custom Wine Cellars also installed pivot hinges in the walls to help create an airtight seal and a stable environment needed for proper wine storage.   
Let Our Los Angeles Experts Create a Modern Home Wine Cellar Design for You

 
Do you want a modern home wine cellar design for your home? At Custom Wine Cellars Los Angeles, we work with top-notch builders of luxurious wine rooms. In this project, Coastal Custom Wine Cellars built a minimalist wine display with metal wine racks and attractive lighting.  
If you need help and want to talk to a design specialist, please do not hesitate to call us at (323) 825-9846.