Custom Wine Racks Los Angeles – Stylish and Affordable Wine Storage Solutions
Proper placement of wine bottles is an important factor in wine storage. Wine bottles need to be laid on their side in order to keep the cork in constant contact with the wine, and prevent it from shrinking and drying out. A dried out cork loses its sealing quality and can cause wine faults that can damage the taste and flavor of wines.
Wine racks Los Angeles are specifically designed to facilitate proper bottle placement. They allow wine bottles to be stored at an angle to maintain cork-wine contact. They are available in a range of styles to suit various design requirements, as well as different storage capacities to accommodate various storage needs.
Wine racks can be used for commercial or residential purposes such as building custom wine cellars. Some of the most popular wine racking styles are tabletop wine racks, wall mounted racks, stackable wine racks, Cube box wine racks, rectangular bins, island racks, and quarter round displays.
Different Wine Racking Systems for Various Wine Storage Needs
Tabletop wine racks are perfect for storing wines on a small scale. These wine storage solutions can fit three to twelve bottles. Tabletop racks can be placed on kitchen countertops or on a side table. These racks have a decorative appearance that can bring elegant appeal to a small collection.
Wall mounted wine racks are ideal for small living spaces. These racks don't take up floor space because they are installed on the wall. Racks that are mounted on the wall are a great way to utilize wall space for storage and are excellent for showcasing an impressive collection of wines.
Stackable wine storage solutions provide flexibility in storage options. Additional units can be added as the need for storage space increases. These racking systems are space efficient and provide ease of assembly, as they are simply placed on top of another.
Cube box wine racks and rectangular bins have large compartments that are ideal for bulk storage. Cube racks can hold a large number of different wine bottle sizes while rectangular bins can accommodate cases of wine. These wine racks Los Angeles can be used for residential and commercial purposes.
Island racks are mostly used in commercial storage and displays such as in wine retail stores. They are designed to provide a clear view of wine labels to allow for easy browsing. These are floor standing wine racks that can be placed in any part of a wine shop in order to maximize floor space.
Quarter round display racks are used to fill in corner spaces in a wine storage room. They are perfect for storing large wine bottles upright such as magnums. These display devices can also be used to store decanters and other decorative pieces.
Choosing Custom Wine Racks
There is also an option to have the wine racks custom made to match the design specifications of a given wine collector. Custom wine racks Los Angeles are made to accommodate the uniqueness of each wine cellar. Each space and architectural constraint of a wine room is taken into account. This creates a racking system that fits the room perfectly, and at the same time adds a one of a kind appearance to the space.
Many wine collectors and wine retail business owners choose custom wine racks Los Angeles because of their flexibility. They are available in varying heights, widths and storage capacities. They also come in different finished, stains and wood specie used. Take a look at these custom wine racks: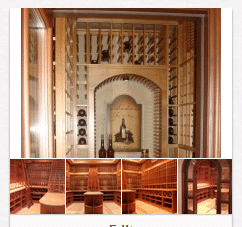 Exquisite Wine Racks Los Angeles