A Residential Custom Wine Cellar Ensures That Your Prized Wines are Stored Safely at Home – Hire a Builder in Brentwood California!
There many kinds of storage systems for wines, and each one has their own pros and cons. Want to know what storage facility is best for your collection? The appropriate structure for your wines depends on a variety of factors, including the number of bottles in your stock. If you have over a thousand bottles, like our recent client in Brentwood, California, a cellar is an ideal storage system. This client wanted to own a home wine cellar that could house his continually expanding collection. He hired our team to build him his dream cellar.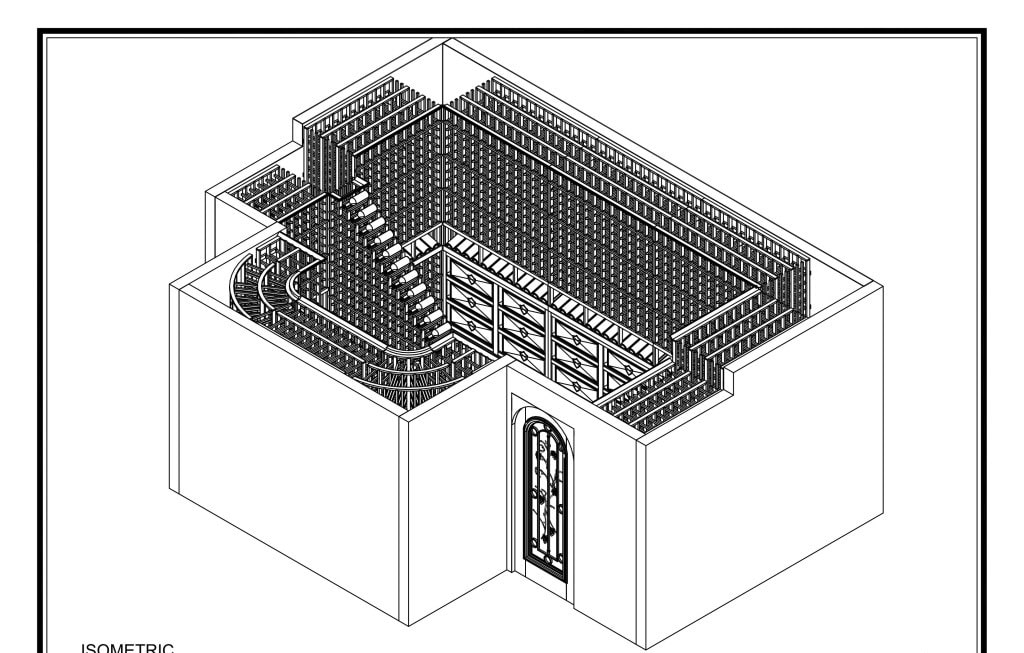 Master Builder Constructs a Luxurious 4,010-Bottle Capacity Home Wine Cellar in Brentwood, California

 
Our contractors, here at Custom Wine Cellars Los Angeles, have a wide range of experience in constructing various types of wine storage structures. We've built small storage systems for clients who have a few bottles in their collection, and we've also had projects where we constructed massive custom home cellars that can house over a thousand wines. One of our biggest projects was this recently completed residential wine room for a client in Brentwood, California.  
The client called us because he needed an adequately large wine cellar built for his liquid babies. He owns a collection of over a thousand bottles from various wineries all over the country. He's a genuine wine enthusiast, and he plans to continue to grow his collection.  
Our designers and builders went to the construction site and discussed with the client his storage requirements, as well as his aesthetic preferences. To anticipate the growth of his collection, we created a wine cellar design for a home that could accommodate up to 4,010 bottles. We presented a set of 3D drawings of the proposed design. We made a few revisions until the client finally decided on a design that he liked. As soon as he approved the wine cellar blueprints, the construction commenced.  
A Stellar Cellar Design Fit for a Wine Collector with Exquisite Taste

 
This Brentwood, California home wine cellar was designed with unique features that were handpicked by the client. Our specialists made sure that all of the elements in the cellar's design were cohesive, in order to create a beautifully grandiose wine room.  
Various Styles of Wooden Wine Racks

 
We installed gorgeous wooden wine racks in this Brentwood, California project. The racks were made from high-grade Heart Redwood with satin finish applied. Heart Redwood is one of the best materials for climate-controlled storage rooms. This wood species is durable, moisture-resistant, and aesthetically superior.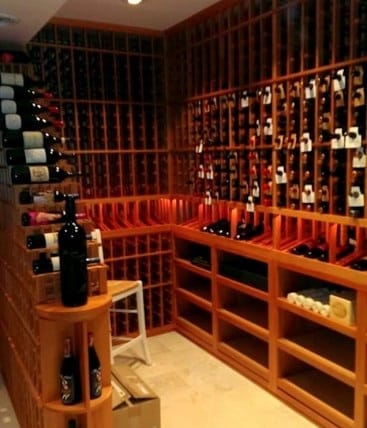 To maximize the storage space and achieve the planned bottle capacity, we installed double deep racks. These racking systems have a depth of 27 inches, and each slot can accommodate two bottles. This style of wine racks is ideal for bulk storage.  
The most outstanding feature of this magnificent wine room is the 66-inch long waterfall display. This racking system cascades down to a small tabletop area. Beneath the tabletop were wooden shelves for additional storage.  
Our team of experts built 36 wood cases for large-format wines. These cases were installed with commercial rollers so that they can simply be rolled out for easy access. We provided more storage slots for magnum-sized bottles by installing wine racks with large openings. A total of 136 large-format bottles could be accommodated in this Brentwood, California home wine cellar.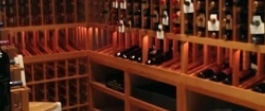 The entire length of the interior walls was lined with individual bottle storage racks. A high reveal display was also built across the racking system. The high reveal display was designed to tilt bottles at a 15-degree angle. This slanting configuration ensures that the corks are in constant contact with the wine, in order to prevent drying out. Corks shrink when they dry out, and this could lead to oxygen entering the bottles and ruining the wines. The 15-degree slant also ensures that wine labels are in full view.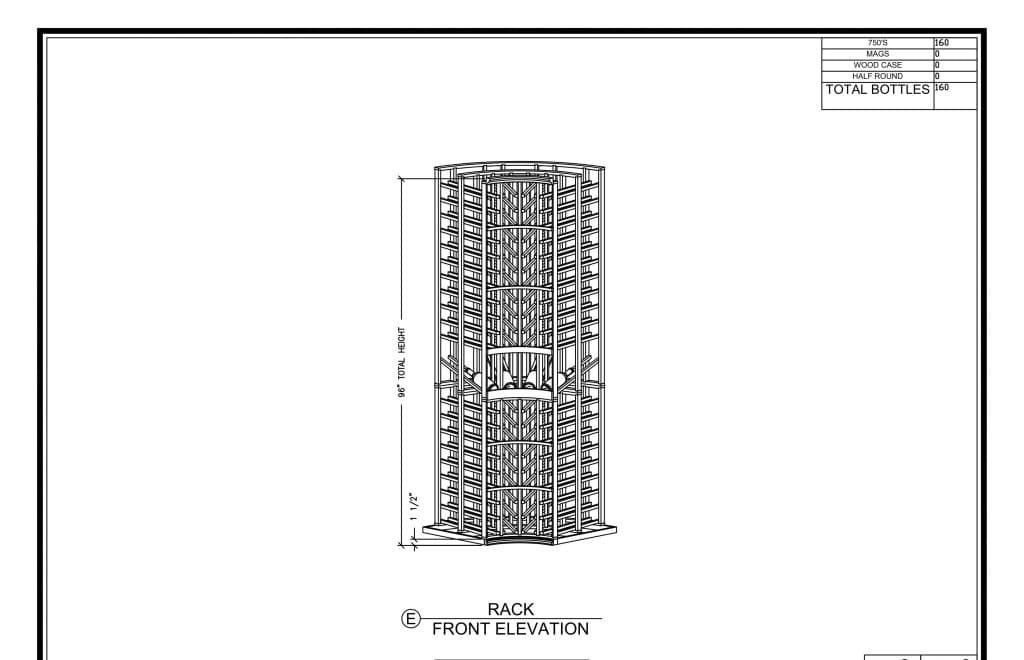 A countertop was installed in this residential custom-designed cellar. This feature was built to provide a space for decanting and serving wines.  
In order to ensure that the bottles are kept off the floor, all of the racks in this project were built to rest on 1 1/2″ toke-kick. A toe-kick is necessary to protect the wine cellar floor from damage.  
To create an illusion of seamlessness from one wall to another, we installed true radius curved racks on the corners of the room. The corner racks make it seem like there is continuity between the wall racking systems. There is no segmented or angled appearance in the racking systems.  
A Stellar Wine Cellar Door Installed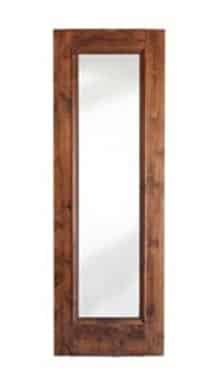 There are various styles of wine cellar entryways. The style that is best for your wine cellar is the one that matches the overall design of the storage room. In the Brentwood, California home cellar, we installed a Barolo-style glass wine cellar door to complement the rustic-contemporary design of the wine room.  
Our team used a dual pane type of glass to provide effective insulation and prevent moisture buildup. We also added an automatic door bottom to the bottom edge of the entryway. An automatic door bottom is a mechanical device that pops up when the entryway is opened and snaps back down when the door is closed. This device ensures that the gap at the bottom of the door is tightly sealed.  
High Quality Refrigeration System for this Home Wine Cellar in Brentwood, California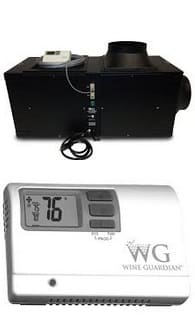 A dependable HVAC system is an indelible part of a functional wine cellar. An efficient cooling unit can keep the humidity and temperature inside the cellar at the ideal wine storage levels.  
A Wine Guardian D050 was installed in the Brentwood, California home cellar. This wine cellar refrigeration unit is a self-contained ducted air handler. This cooling unit has a maximum capacity of 5,570 BTU/h, which is equivalent to 1.62 kW. This HVAC system was designed to cool spaces from 800 to 3,000 cubic feet.   
Want a residential wine cellar built in your home? Consult with an expert today! Find one by clicking here!